Download Lessons4you.info Wallpaper: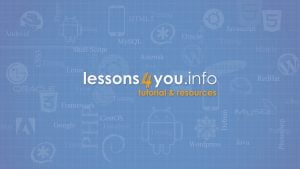 Samsung USB Driver: Link 1 | Link 2 (Direct)
Samsung Official Firmwares: Link 1 | Link 2
GApps (Google Play Store):
– GApps (Google Play Store)
– GApps (Google Play Store) for 4.4 KitKat
– GApps (Google Play Store) for CyanogenMod
Download Samsung Kies and Samsung USB Driver:
– Samsung Kies
– Samsung Kies for Mac
– Samsung Kies for Windows
Other Resources:
– CF-Auto-Root Files
– ClockworkMod Recovery
– XDA Developers
Important APPS:
– Triangle Away App
– Root Checker App
– Titanium Backup
– Go Backup Pro
– Super Backup
Odin:
– Odin3 v1.85: Link 1 | Link 2 | Link 3
– Odin3 v3.07: Link 1 | Link 2 | Link 3 | Link 4
– Odin3 v3.09: Link 1 | Link 2 | Link 3
Custom ROMs:
– CyanogenMod ROM
– Unofficial CyanogenMod
CyanogenMod (pronounced sigh-AN-oh-jen-mod), is a customized, aftermarket firmware distribution for several Android devices (See above for supported devices & how to install CyanogenMod on said devices). Based on the Android Open Source Project, CyanogenMod is designed to increase performance and reliability over Android-based ROMs released by vendors and carriers such as Google, T-Mobile, HTC, etc. CyanogenMod also offers a variety of features & enhancements that are not currently found in these versions of Android.
– CyanFox ROM
CyanFox is a brand new custom aftermarket Android firmware (ROM) which is based on CyanogenMod 11.0 and Android 4.4.2 (AOSP) source bases with some new essential features added in.
– OMNI ROM
The goal of Omni is to experiment with Android development because we enjoy it. Omni isn't better, just different. It's another option for the billion Android users out there. Android (vs. iOS and every other mobile OS) has thrived on options as well as the gigantic, talented development community that has emerged to build those options. That's the beauty of Android – that you can pick and choose from a smorgasbord of devices with varying features and functionality.
– Carbon ROM
CarbonRom is an aftermarket firmware based on the Android Open Source Project. We are dedicated to fast, stable, and feature-filled roms, honesty and communication with our users, and openness with our code. We like frequent builds, with the very latest and greatest hardware support and fixes. We strive to not only provide you with the best rom we can build, but also to give back to the Android community and our fellow developers. For us, this is about creating something we can be proud of and hope you will enjoy.
– Slim ROM